The bird portal leads Abe to two Mudokons.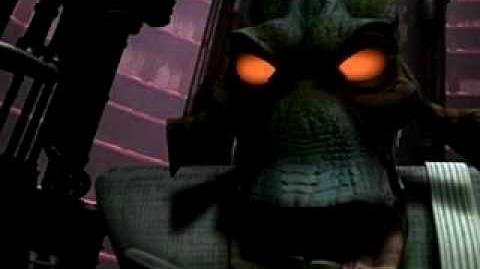 Mudokon 1: You! You're not going anywhere, Stitch-Lips!
Mudokon 2: You! You didn't save our buddys!
Abe: But, guys it was hard-

Mudokon 3 hits Abe with a Soulstorm Brew bottle over the head.
Mudokon 3: And you ain't getting away with it!
Abe later wakes up hanged in a Tear Extractor as he wines while the Brewmaster and a Slig watch him.
Brewmaster: It is a thing of beauty! This will be our finest brew EVER!
Slig: Ya think we've got enough boss?
Brewmaster: What the hey! Let us go for the record! PUMP IT UUUUUUP!
Abe: NO!!!
Slig: I'm on it!
Abe screams wildly in pain till he transforms into birds.
Brewmaster: What?!?
Slig: Oops! Sorry boss!

The Brewmaster, originally distraught, turns to the Slig and begins laughing maniacally as the Slig joins him in his laughter.
Ad blocker interference detected!
Wikia is a free-to-use site that makes money from advertising. We have a modified experience for viewers using ad blockers

Wikia is not accessible if you've made further modifications. Remove the custom ad blocker rule(s) and the page will load as expected.