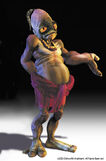 Buddy is a
Mudokon
who has only been mentioned in the online version of the
Daily Deception
. He was overweight and is said to have taken the "South Meech Diet" to shed a large portion of his weight. He was introduced as Oddworld's first khanzumer. 
In one online Daily Deception, further information was discussed about Buddy's diet. As mentioned in Abe's Oddysee, the Meeches had gone extinct, and with Buddy claiming to have taken a diet restricted to such meat, skeptics wondered if he was "even eating at all".
Later seen in a further article, he had apparently hit 500 lbs. He binged on food due to "forum pressure", so binge eating may be a stress relief for him. He was said to have been taken under Abe's wing. This was possibly to help him gain better health. Buddy hasn't been mentioned of much since, but occasional, vague mentions on Dear Alf have been seen.
References/sources