Welcome to the Oddworld official Wikia, a project to document all things Odd. Being a wiki, anyone can edit, but we'd rather you didn't go around testing things on any old page, you can do that here.
Oddworld Fan Fiction works can be found here.
What would be really useful now would be some pictures in the articles, the content is great, but a picture is worth a thousand words, and would greatly improve the wiki.
If you want to help out, check out the list of stubs, or uncited pages.
About

Oddworld is a comprehensive fictional universe presented in video game form, created by game developers, Oddworld Inhabitants, under the direction of Lorne Lanning. Throughout games set in the Oddworld universe, Oddworld's peaceful nature is in danger of being consumed by the industrial ambition of sadistic corporations. Oddworld, as a planet, is measured as seven times the size of Earth, a fraction of which has been featured in the games. The main continent is Mudos. The series has been released on various platforms like PlayStation, Xbox, PlayStation 3, and Windows.
Featured Article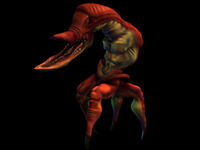 Scrabs are sacred animals nearly hunted to extinction as Magog Cartel food product, specifically Scrab Cakes. These natural beasts can be found from Scrabania to the vast wilderness regions of Mudos. Scrabs run free in deep valleys and protect the Scrabanian Temple. (more...)

Featured Poll
Which game are you looking forward to the most?
Titles
Other
Helping out
To write a new article, just enter the title in the box below.
Not sure where to start?
Adding content
Talk and more...